Star Studded Hands - The Italian Way
Star Studded Hands-The Italian way
From shoes to bags; from belts to boots, studs are everywhere. Applied tastefully they add a sense of adventure and instant glamour to your look. We have taken the studded look to our luxury Italian leather gloves collection with star studded effect in gold and in silver.
Gold Studs All The Way
Nobody makes gloves like the Italians and these are no exception to that rule. Sleek, super soft black Italian nappa leather, elegantly sculpted and studded from fingertip to cuff with neat gold studs. Lined with black silk for a warmth and style they are feminine and edgy and all that's needed to add a touch of drama to a classic jacket.
Gold Studded Silk Lined Leather Gloves
Rock Chic Studs Go Fingerless
Add a touch of rebel chic with these fingerless leather gloves. Expertly crafted form soft Italian nappa leather and embellished with gold spikes they are an eye-catching and edgy accessory for skinny jeans and a biker jacket. Lined with black silk for comfort and warmth they are luxuriously soft and supple. Finish the look with fire engine red nail polish.
Studded Silk Lined Fingerless Leather Gloves
Super-Luxe Silver Studs
Buttery soft Italian leather, perfect quilting and sumptuous black cashmere lining, richly embellished with silver spikes from wrist to knuckle make these glorious gloves an irresistible choice for winter. If you favour the edgy look of the current passion for studs but crave for warmth and comfort, then these ladies leather gloves are for you. Finished above the wrist, the cuffs are elasticated for a super comfort fit.
Studded Quilted Cashmere Lined Leather Gloves 
Stylish in Silver
For those for whom the spike is just a stud too far, these super soft Italian nappa leather gloves afford the drama and elegance of the all-over studded look in a more restrained style. The studs run from fingertip to cuff and are lined with champagne silk for a sleek and comfortable fit. Teamed with a classic look, this is the perfect accessory for a little touch of glamour.
Silk Lined Leather Gloves with Silver Studs
Simply Studded
If the full metal look is not for you but you still fancy flirting with the studded look, these may be for you. Classically styled 'second-skin' Italian leather gloves with a high fashion twist of a single row of discreet silver studs elegantly applied to a gently scalloped edge cuff are silk lined for a sleek finish.
Silk Lined Leather Gloves with Studded Cuff
Our Studded Suggestions
Here are some of our favourite studded items from other brands we think you'd like 
Burberry London: Cotton Button-Down with Studded Colar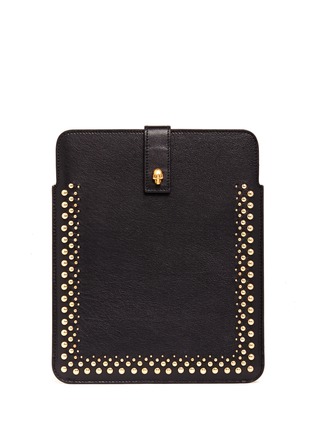 Alexander McQueen: Studded iPad Case
Michael Kors: Studded Point Toe Flats