Wedding season is officially in full swing. Is there a better excuse to dress up than for a celebration of love and marriage? The bridal party and guests alike give considerable thought to the perfect outfit. And let's not forget the all-important accessories.
Whether you are a bride, bridesmaid, or guest, we have handpicked a collection of some our sumptuous shawls and wraps to add something special to your wedding day attire.
Wraps For Brides
Brides, we know meticulous planning and months of effort go into the smallest of details. Seating plans, menus, entertainment. The list goes on. What you can't plan on is the weather. We suggest an elegant wrap as an addition to your wedding day look. Offering protection from colder temperatures or coverage for bare shoulders, these luxurious offerings are easy to slip on and off for whatever the moment requires. Here are some traditionally hued options
Made of 100% Cashmere, this shawl exudes timeless sophistication. The properties of cashmere this fine mean it will adapt to provide cover on hot days and warmth if the temperature drops. The solid cream colour provides an understated, yet elegant addition, letting the dress (and the bride) take centre stage. Generously sized, this would make an excellent option for any religious aspect of the wedding day requiring more modesty.
The ombré from classic cream to not-too-warm-not-too-cool caramel in this wrap adds some dimension and depth, whilst maintaining a traditional colour palette. Barely-there light, it can be easily stowed away into the obliging clutch bag of the mother-of-the-bride or a trusted bridesmaid, to be whipped out at cooler moments.
The stripe on this shawl adds an unexpected and contemporary twist on a classic, which will serve you just as well on your honeymoon as a scarf or coverup as it will on your wedding day. Pairs exceptionally well with a modern minimalist dress.
Wraps for the Bridesmaids
Light and amply sized, our cashmere and silk wraps can transform from wraps to shawls to scarves. Making these offerings the perfect gift for your bridesmaids to use on the big day and enjoy for many years beyond. We've included some solid colours below that will complement, and not compete, with the bridesmaid dresses. These rich jewel tones work well with contrasting colours and as a pop against a neutral palette.
Are you hoping for an outdoor celebration or photo session? This shade would be a stunning addition to pick up on the vast variety a countryside backdrop offers. Emerald makes a stunning contrast with a pale pink or peach bridesmaid dress.
Luscious sapphire blue is a photographer's dream and will look stunning in the wedding album. The opulence of this shade lends itself to transforming a bridesmaid dress just before cocktail hour, ready for the evening portion of the proceeding.
And if you can't choose between the Emerald or the Sapphire (we don't blame you), then this ombré number is the perfect solution. Blending vibrance and calm, we think this wrap would pop with a navy or teal bridesmaid dress.
Wraps for Wedding Guests
What to wear as a wedding guest can be tricky if no dress code is provided in the invitation. When you opt for a quality material like cashmere and silk, accessories can allow your outfit to transcend from a casual beach or back garden wedding to a black-tie affair.
Leopard print has become somewhat of a go-with-anything neutral. You can use it to jazz up an all-black outfit for some chic glamour or combine it with another print for a playful look.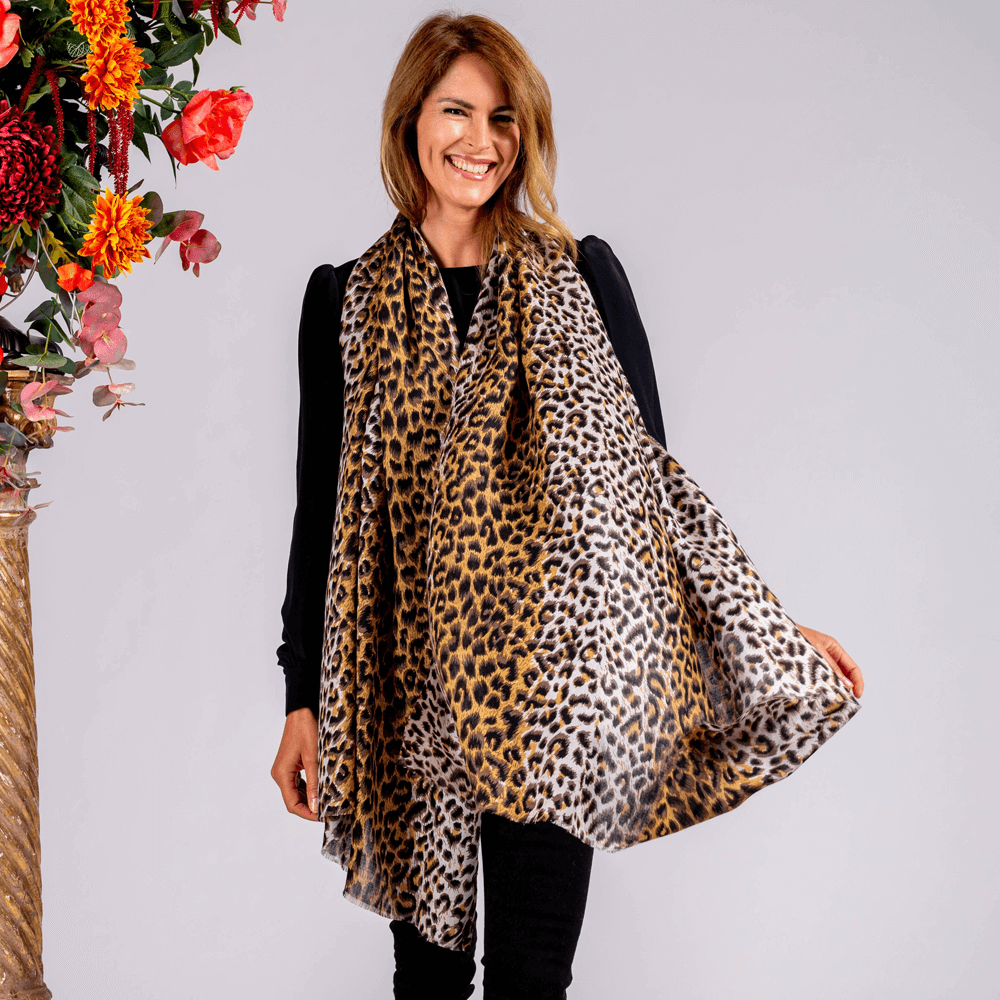 Floral prints for a wedding are a no-brainer and you can't go wrong with this exquisite example. Its vibrant design sprawls on a black background ensuring it will pair perfectly with a classic little black dress.
This floral encapsulates softer tones, ideal for hazy day weddings at the height of the summer season. The eyelash edges of this colourful creation give it a feminine and romantic feel.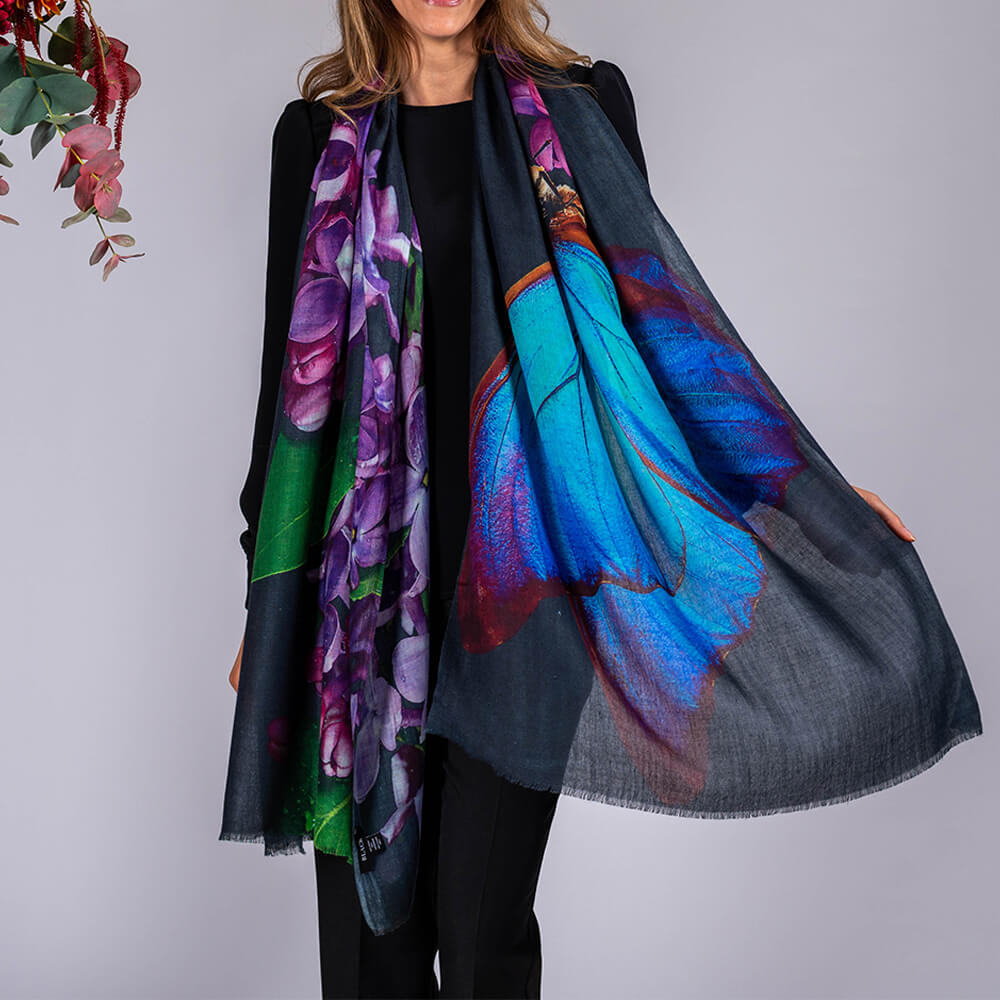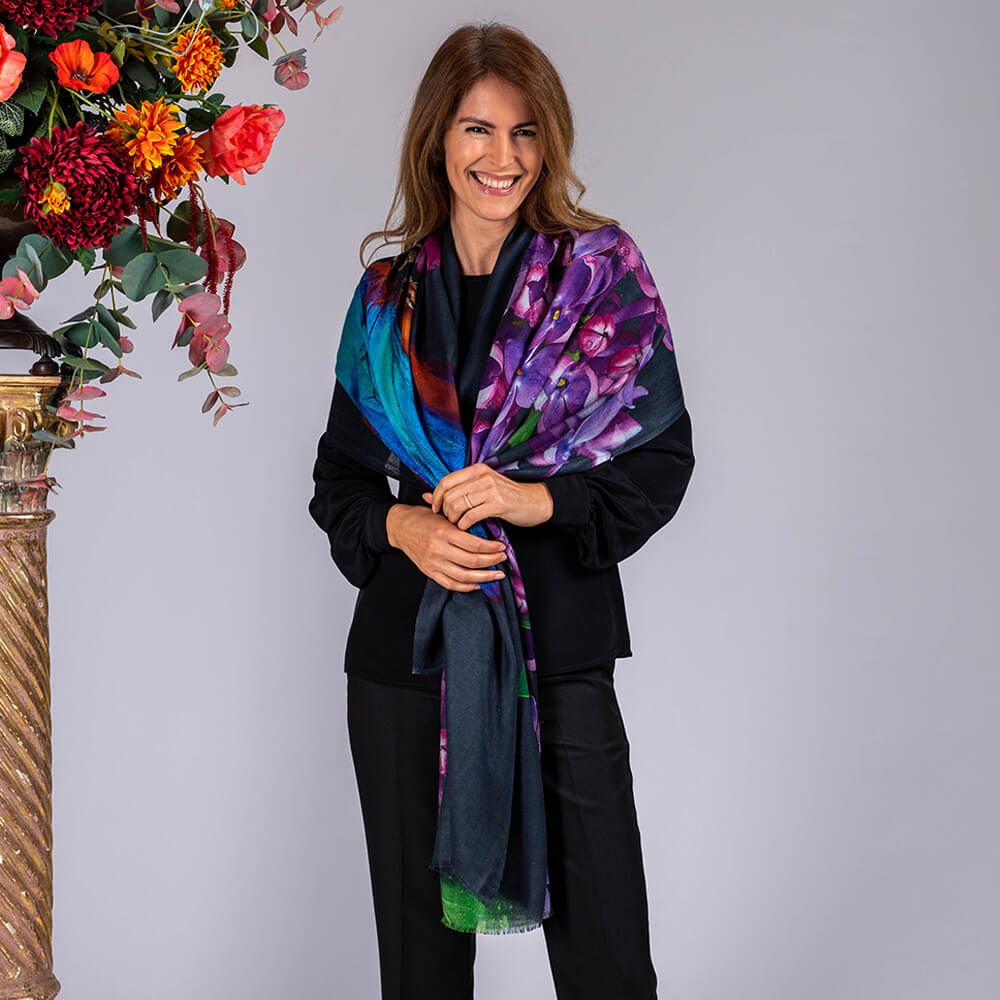 The quality craftsmanship of each of these pieces means that you can continue to enjoy these wraps for many years to come. To discover how to wear your wearable keepsake after the big day, check out our style guide for some style inspiration.
Find all these wraps and many more options in our collection of women's scarves