A summer scarf is a simple and timeless accessory that can instantly enhance your outfit's look. Scarves not only keep you warm in the winters, but lightweight summer wraps can add a playful and fresh look to your outfit and make you look stylish in the summer. Discover our our exclusive collection of women's summer scarves in cashmere and silk that are must-haves for your summer wardrobe. Take your pick and get ready to wear our scarves year-round and effortlessly change your look from season to season.
You may think an animal print cashmere and silk scarf will not work in summers, as it would be too warm. However, our brown leopard print cashmere and silk scarf is lightweight and will add elegance and style to your outfit. You can style this scarf with your dresses, tee-shirts, and denim shorts to complete looks all year round.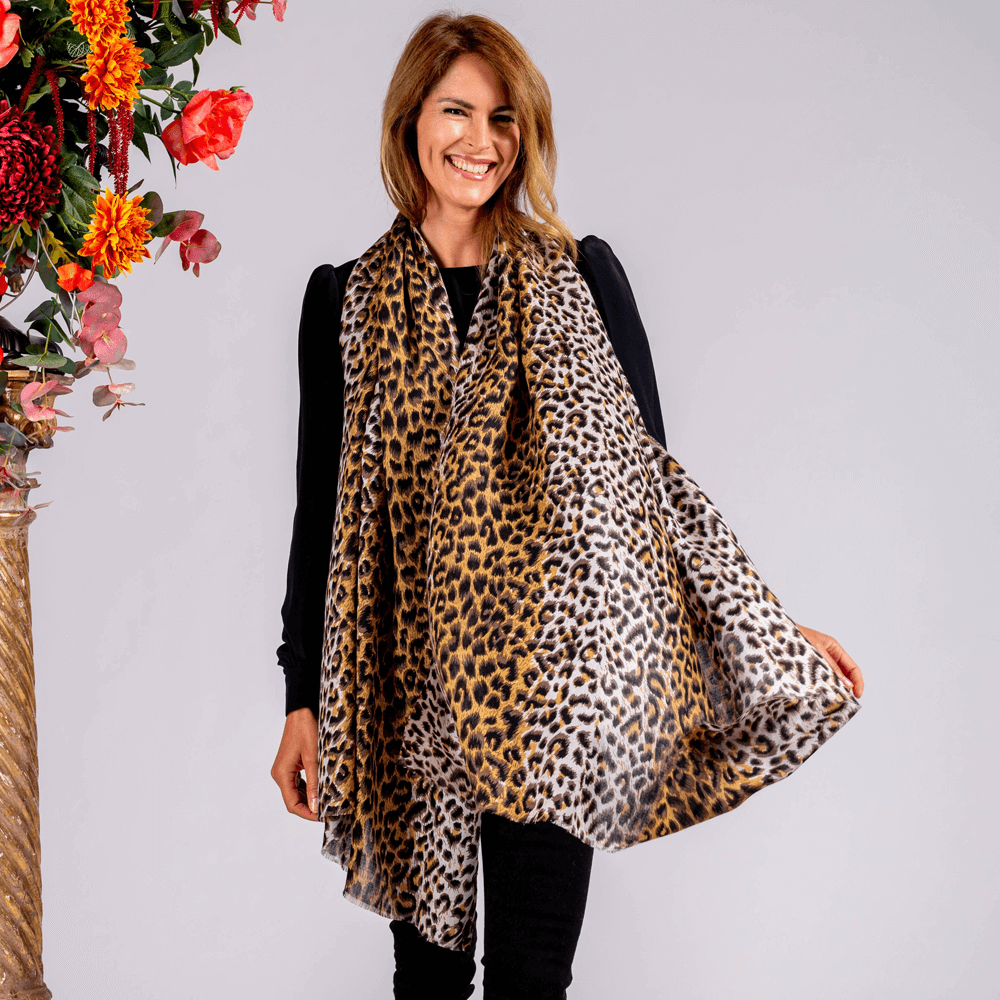 Due to their luxurious, timeless nature, cashmere and silk are the number one choice when it comes to a formal wrap. You can wear our emerald green cashmere and silk wrap in various ways to bring out your creativity. The colour intensity of this wrap makes it a great match to be worn with neutral and timeless hues. The emerald wrap will give you a classic look when teamed with a beaded, patterned, or embroidered dress.
.
Summers are all about light, vibrant bright colours and floral prints; that makes floral print scarves one of the favourites for this season. From our floral trilogy – this red tulip cashmere and silk wrap will look stunning with a solid colour outfit and is perfect for you summer date nights. You can also make a style statement by wearing it as a beach wrap while on holiday. 
When paired smartly with other colours, pastels can give you a fresh and bright look. Nothing helps you beat the heat better than our lightweight pastel blue cashmere and silk wrap. For an elegant look, pair this pastel blue wrap with pearls; just like that, you will get a polished and chic look.
Our emerald to sapphire cashmere and silk wrap with emerald green on one side and sapphire blue on the other will add drama to your summer wardrobe. If you don't have time to try something new, simply knot this wrap loosely around your neck and get ready to flaunt this fantastic colour with your favourite outfit. You can upgrade your look in an instant with this eye-catching wrap.
The perfect accessory, you can style a scarf in different ways to complete your looks not only through summer but also autumn, winter and spring. Check out our collections of women's scarves and wraps where you'll find a little luxury you can flaunt all year round.