If choosing the right colours to wear sometimes feels more like a stab in the dark than an intentional selection, we think it might be time to discover your seasonal colour palette. Welcome to the next instalment of our "Colour Your Life" series -where we delve into the transformative world of colour seasons. Understanding which colour season you are in is the first step towards creating a harmonious look that unleashes your inner glow.

In this article, we will continue our exploration of this fascinating concept and guide you towards unlocking the radiant colours of the Spring palette. So, let's dive in and discover the wonders of the Spring colour season.
Understanding Colour Theory
Colour Seasons is a concept that design boffins use to group colours that work best for different complexions. It's a design theory that has been around for decades but is gaining popularity thanks to trending TikTok and Instagram filters which spin through these colour palettes. If you don't keep up with TikTok trends, don't worry, we will talk you through all you need to know to figure out your season.

You can pin down your palette by examining how your skin, hair, and eyes interact with each other. Once you work out which colour season you belong to, it will help you uncover a palette of colours that harmonise best with your unique features—unlocking the knowledge you need to choose the most suitable clothing, makeup, and accessories.
Discovering Your Colour Season
To figure out the colour season you are in, first, identify the temperature of your skin tone. Our skin tone might be warmer or colder regardless of racial background or skin colour. Some strategies for determining this include asking yourself whether you prefer gold (warm) or silver (cool) jewellery. Examining the veins on the inside of your wrists is another sign; do they look more green (warm) or blue (cool)? Cool skin tones will be either winter or summer. Warm skin tones are associated with spring or autumn.
Two methods for finding your skin tone:
Do you suit gold(warm) or silver(cool) jewellery?

Look at the veins inside your wrists; do these look greener (warm) or bluer(cool)?
Skin with a cooler undertone is either winter or summer. Skin with a warmer tone is either spring or autumn. 
Am I A Spring Colour Season?
To determine if you are a part of the Spring colour season, you need to assess your skin's undertones and hair and eye colours. Warm, peachy, or golden undertones characterise the spring colour palette. Hair colours often include shades of golden blonde, light to medium warm brown, strawberry blonde, or auburn. Eye colours commonly associated with Springs are light blue, green, hazel, or light brown with golden flecks. If these descriptions resonate with you, chances are you're a Spring!

Click here for a deep dive into the Autumn and Winter colour palettes.
Embrace the Colour Palette of Spring
Springs are blessed with a palette that exudes freshness, vitality, and playfulness. Now that you've identified yourself as a Spring let's explore the enchanting colours that complement your natural features and bring out your radiance. Here are some colours that will beautifully complement your Spring colour season:

1. Soft Pastels: Think of delicate shades like flamingo pink, light coral, mint green, and buttercup yellow. These soft pastels illuminate your complexion and create a gentle and youthful aura.

2. Warm Neutrals: We mean neutrals with warm undertones, such as creamy ivory, beige, and light latte-hued browns. Getting a foundation of the right neutral colours provides a versatile base for your outfits and adds sophistication to your overall look.

3. Fresh Greens: Explore the realm of nature-inspired greens, such as leaf green, mint, and aquamarine. These shades will harmonise with your warm undertones and bring a vibrant energy to your outfits.

4. Coral and Peach: Embrace the warmth of coral and peach shades, as they beautifully complement your golden undertones. These colours add a lively pop to any ensemble and suggest joy and vitality.

5. Blues and Violets: Incorporate serene shades of bright blue, bright navy, and violet into your wardrobe. These vivid blues and purples contrast your warm complexion and evoke a sense of tranquillity.

By embracing these colours, you'll create a harmonious and captivating look that accentuates your natural beauty and radiates the essence of Spring. 
Now you have uncovered your true spring nature, you have the tools to curate a wardrobe that reflects your vibrant personality and enhances your natural features. Likely, some items in your existing wardrobe aren't in your ideal colour palette but worry not! We've rounded up a selection of scarves perfect for spring colour palettes.

Because we wear scarves close to our faces, it's the item that has the most impact. It can act as a radiance-enhancing buffer and counteracts any glow-sapping colours in our outfits.
Scarves for Spring Colour Season
First up is our Pine to Mint Green Cashmere and Silk Wrap. Easy and breezy, feminine and flattering. This scarf offers a vibrant focal point and pairs well with bright navy and warm neutrals.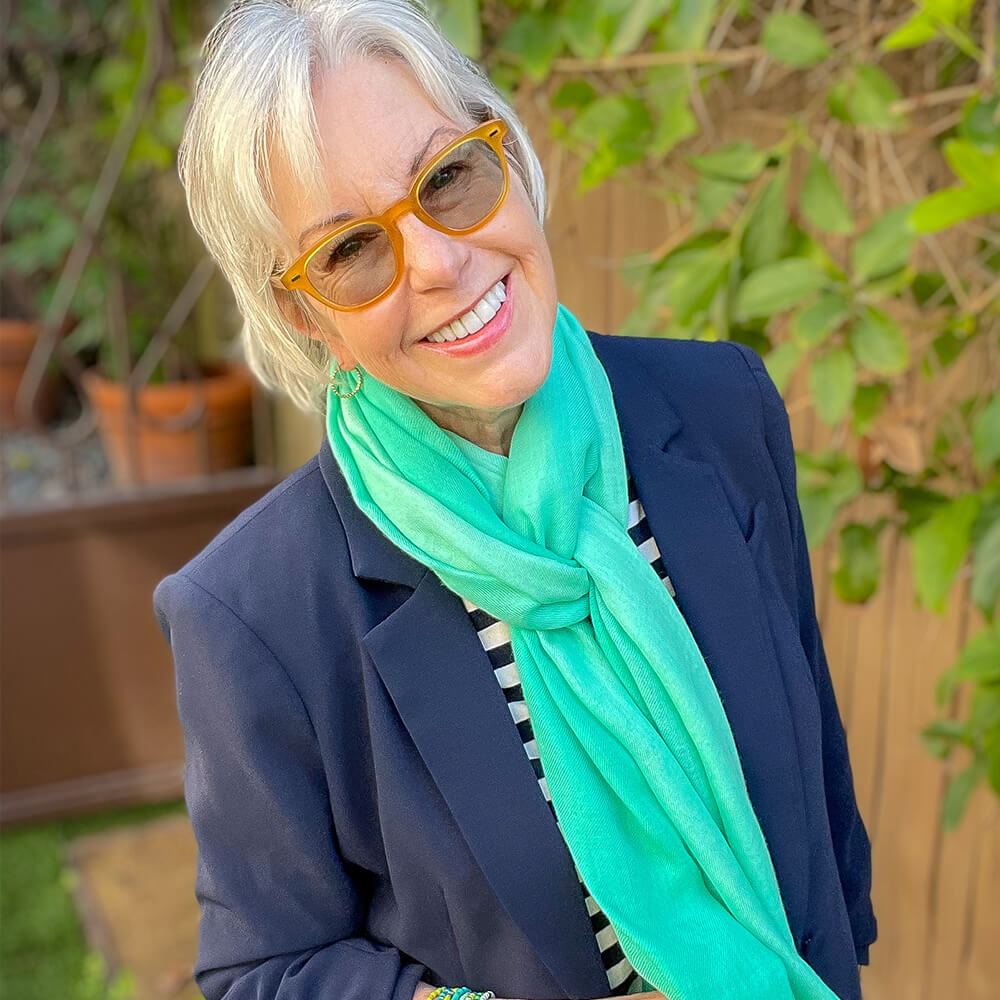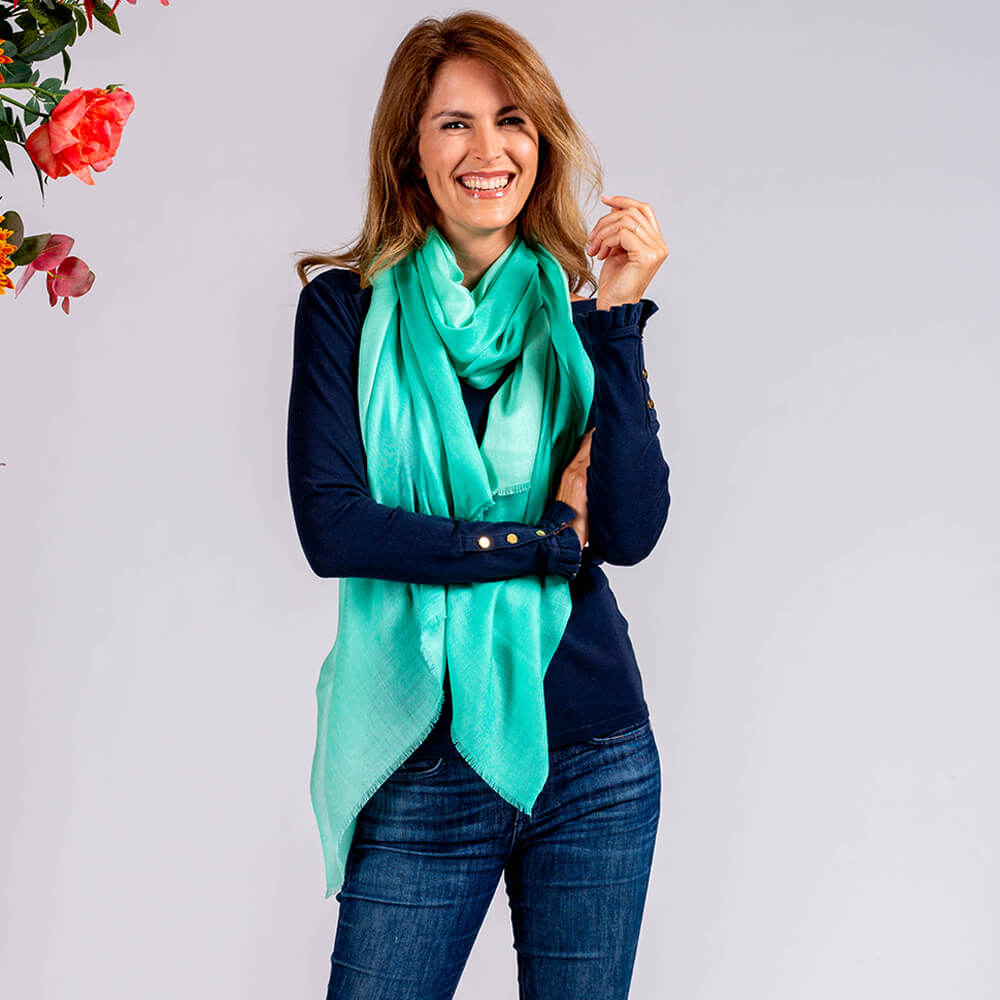 For pastels, we love this Apricot Orange Gossamer Cashmere Shawl. It's soft in colour but provides a fresh brightness for Spring stunners.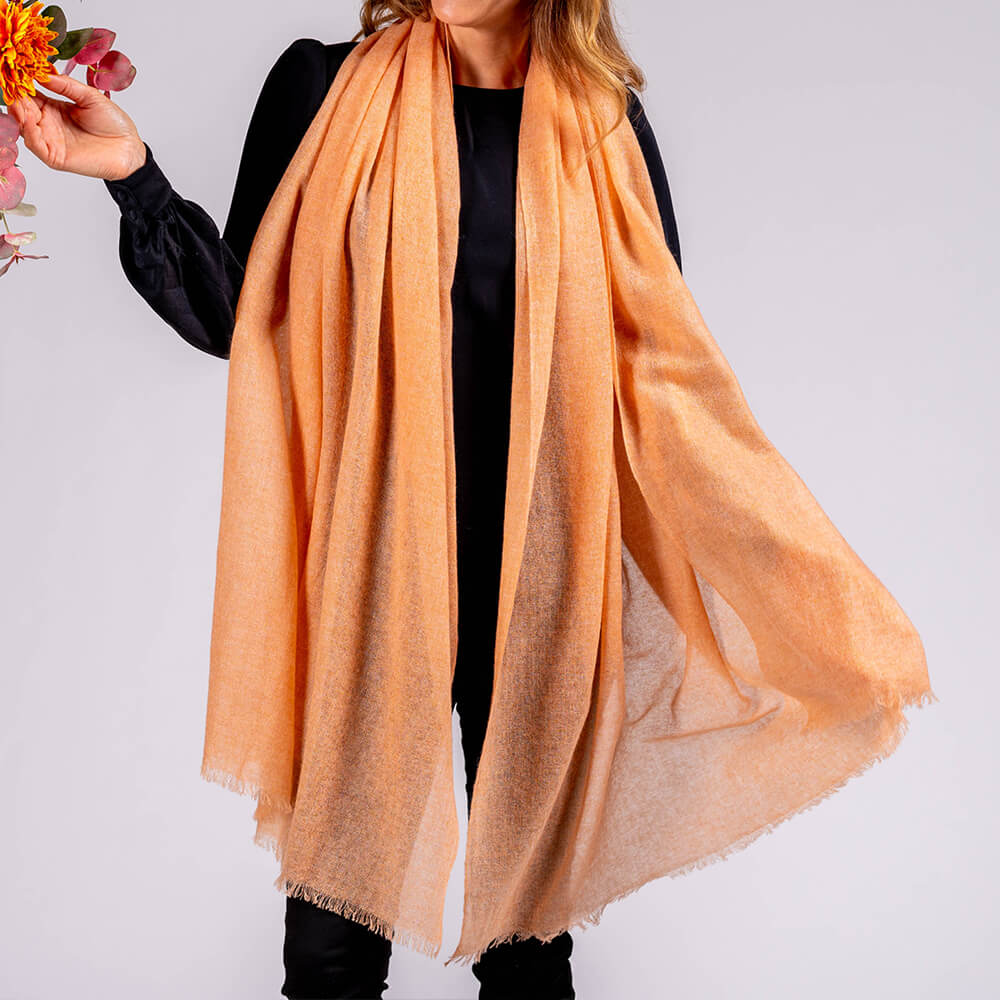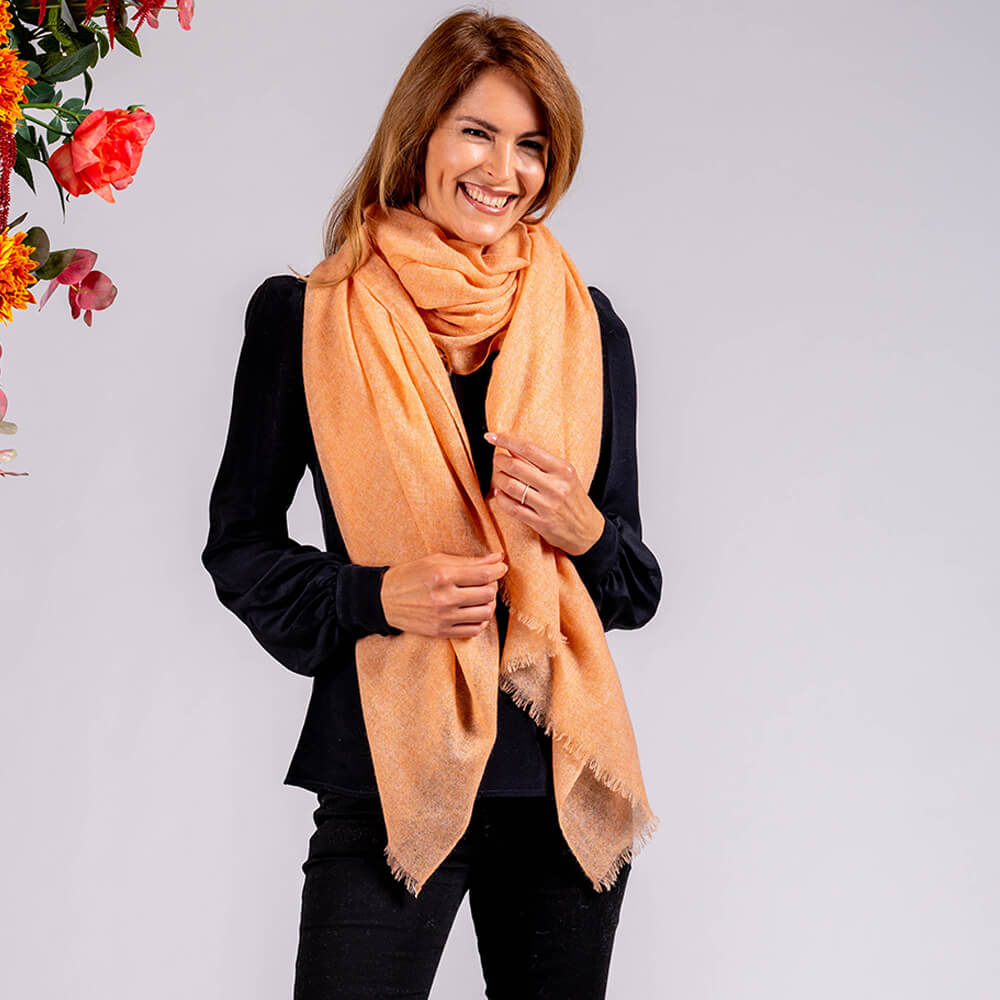 And for a neutral option, we suggest our Super Luxe Cornish Cream Basket Weave Cashmere Shawl. This scarf is luxe through and through, delicious in colour and scrumptious in texture.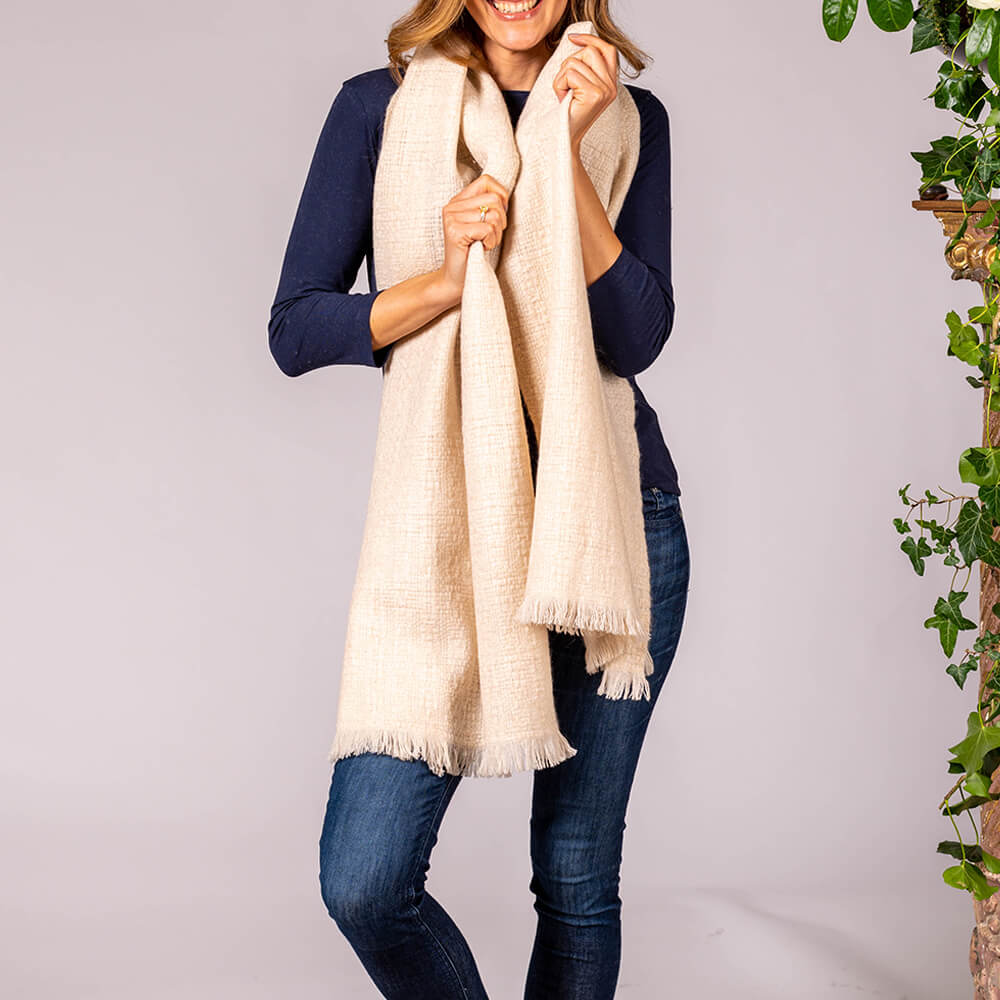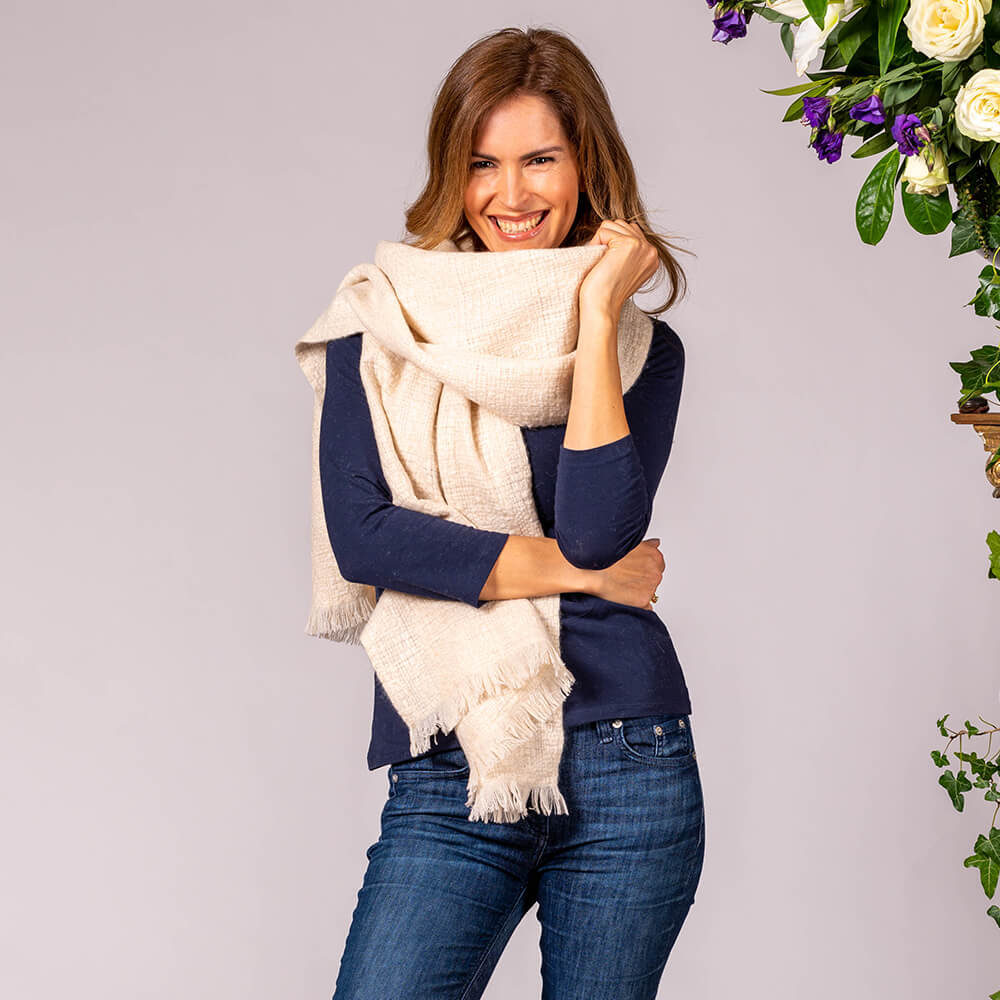 So far in the series, we have explored Autumns and Winters. Stay tuned for our final instalment, where we dive into the mesmerising world of the Summer palette! Check out our other articles in this series, where we explore the different colour seasons, allowing you to broaden your understanding and embrace the full spectrum of colour possibilities.